Vertical radiator with sectional/ribbed appearance
Factory fitted top grilles and side panels
Ideal for space restricted areas
Centertap connections available as standard
Robust packaging ensuring long-lasting protection during transport and on-site
---
Standard installation kit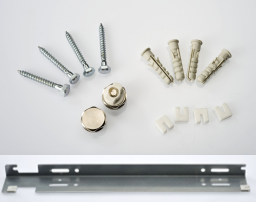 1. Comprehensive hardware pack including airvent & blind plugs, screws and screw caps
2. "L" wall brackets providing mounting flexibility (other bracket options available on request)







---
Steel and Production
Termo Teknik panel radiators are produced in accordance with the internationally accepted EN 442 & BS EN ISO 9001 standards on 5 modern Swiss and Italian based prodution lines. Cold rolled steel conforming to EN 10130 is used in the production; surface treatment and painting processes take place in accordance with DIN 55900-1 standard.Steel thicknesses used in panel radiator production is:
-Panel production : 1.20 ± 0.09 mm
-Fin production : 0.45 ± 0.05 mm
-Top and side covers : 0.75 ± 0.09 mm
Fins maximizing heat output:
The fins are welded on top of 33.33mm pitched water channels to provide high heat output performance.
Every radiator is pressure tested following production:
-Radiator test pressure: Maximum 13 barr
-Radiator working pressure: Maximum 10 bar
-Maximum working temperature: 95 °C
Surface Treatment and Painting
All radiators are applied with surface treatment before they are painted. The surface treatment process includes 3 stages:
-Degreasing @ 55-65 °C
-Phosphating @ 55-65 °C & pH=4.8-5.5
-Three-step rinsing process @ various conductivity levels.
Painting
After surface traetment process, radiators go to painting as follows:
Environmentally friendly primary (dip) paint: white, water-based epoxy ester, cured at 160°C
High quality powder paint: RAL 9016, 60 gloss, epoxy polyester, cured at 180°C. Termo Teknik operates with 3 Swiss based painting cabins providing optimum energy usage depending on production output.
Accessories
All Termo Teknik radiators are provided with factory fitted top grills and side panels and they include "L"-wall hangers and an accessory bag with the following contents:
-Screws and plastic wall plugs
-Blanking plug G 1/2"
-Airvent plug G 1/2"
-Various other wall brackets, floor stands and accessories are available upon request.
Termo Teknik Logo:
Please look out for the Termo Teknik logo on the side panels as a guarantee of Termo Teknik's high quality and assurrance.
Packaging and Labelling
Lugs welded at the back of the radiators are protected by plastic supports against damages. Sides of the panels are supported with grooved card-board protectors against possible harms from external effects. Finally, the radiators are wrapped with shrink-wrap plastic against wetness, humidity, dust.
This heavy duty packaging minimizes the risk of damage during transportation, at the construction sites and during installation. In order to prevent damages to the radiator surface and paint, it is advised that the wrapping of the radiator should be kept on until all construction work at the site is completed.
Palletizing
For maximum protection of radiators during transit and storage, Termo Teknik uses custom made pallets which conform to ISPM 15 standard. In general, there are two ways of palletizing.*Quantities shown in above drawings are illustrative only. Actual pallet loading quantities may vary depending on way of shipment and destination.
Warranty:
All Termo Teknik panel radiators are provided with 10 year warranty against defects in material or workmanship.
Heat outputs
---

Download to use the heat output calculation table!